Back To Blog
A garage door that is insulated serves many benefits to the home and homeowner, particularly during the colder months of the year. It blocks out exterior noise and cold air while holding the warm air inside, making the garage a comfortable environment. Here are several other reasons why people choose an insulated garage door.
It is Quieter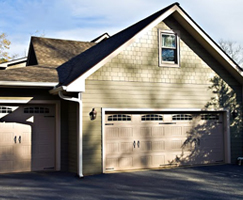 A door that has insulation is much quieter than one does not. It minimizes the amount of noise that is created when the door is in operation. This lessens distractions and irritants for the entire household, especially if there is bedroom above or adjacent to the garage area.
Stable Garage Temperature
During the cold winter months, the garage is usually the coldest area of the home. In some parts of the country the temperature can get all the way down to below zero. Imagine what that garage feels like if it is without door insulation. You guessed it, very cold. Also, during the humid summer months the heat can be extreme in some regions. All of this heat goes right through doors that aren't insulated. An insulated overhead garage door holds in a balanced temperature while keeping the extremes outside.
Resistance and Durability
Garage doors that are insulated are filled with polyurethane foam. This type of foam absorbs the impact of normal collisions against the door such as a badly thrown pass from the kids out front playing basketball. This foam makes the door panel resistant against dings and dents. Ultimately, this type of internal support will keep the door in good condition for years to come.
Additional Room
Some homeowners use their garage area as an extra room for guest or perhaps a playroom for the kids. When extreme outdoor temperatures get inside due to not have any insulation, it makes it difficult to dwell in that area. An insulated garage door will ensure that the temperature is comfortable for all that are in that area.